View all: News
International Conference on Remanufacturing ICoR 2019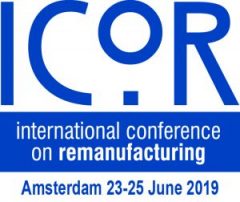 We are happy to confirm that the next International Conference on Remanufacturing, ICoR 2019, will take place on 23-25 June 2019, in Amsterdam. The conference will run in conjunction with the ReMaTec 2019 trade show, at the RAI conference site.
The abstract submission deadline is 31st January 2019, with other key dates and information available at the ICoR website.
Conference Scope
The conference seeks papers on remanufacturing, but will also accept papers in related areas such as:
Repair, reconditioning and recycling
Design for sustainability
Life Cycle Analysis (LCA)
Sustainable manufacturing
Material reclamation
Green supply chains
Sustainability in the built environment
Environmental legislation
Sustainability business models
Audience
Academic and research institutions, industry and persons concerned with the challenges and significance of remanufacturing such as, but not limited to, the following:
Engineers interested in remanufacturing strategy, technique, and technology
Researchers interested in the environmental dimensions or implications of remanufacturing
Management scholars interested in remanufacturing from the operations research (OR) perspective, e.g., modelling of reverse supply chains
Example areas of interest in Remanufacturing for the conference include:
Remanufacturing Strategy
Marketing and branding of end-of-Life products
New business models and new consumption modes
End of life strategy
General strategy and business development
End of life economics
Remanufacturing Operations
Product development and management
Production and operations management
Reverse logistic and closed-loop supply chain
Lean remanufacturing
Remanufacturing Engineering
Design and manufacture including customization
Disassembly including non-destructive disassembly mechanisms (e.g. active disassembly)
Tools and techniques
Inspection and testing
Cleaning processes and technology
Looking forward to seeing you in Amsterdam next year!
www.remanufacturing-conference.com